We will comply with your needs, from raw materials sales to casting of not only widely used resins and engineering plastics, but also fiberreinforced resinsas well.
The market for synthetic resins is unquestionably expanding with the advance in the technology for the high reinforcement of resins, and the resulting development of new uses. Additionally, a need to 'reduce, reuse and recycle' is becoming increaingly stronger in order to alleviate the burden placed upon our environment. We have taken such trends into account as we zealously respond to your wideranging needs by offering from raw material to the casting of plastics and other resin products. Regardless of whether it is thermoplastic or thermo-set plastic, we are accustomed to every casting method and will provide you with a resinification solution.


We offer support from the planning design phase of fiber reinforced resins an area where the market is steadily expanding as the development of new uses for resins progress.
| | |
| --- | --- |
| We have been concentrating on the further enhancement of our product development, planning and design personnel for some time now. With the arrival of a barrier-free society, a need for a vast amounts of handrails has arisen, and we are involved in the development of handraits and other items made of fiber reinforced plastic, which is superior in terms of both cost and durability. Staff members, who are well informed about state-of-the-art resins, will participate in development, and we will provide you with a total solution, from planning, design, choice of materials, production to assembly, according to your needs. | |
We offer low-cost overseas production as well as domestic assembly according to your request.
The priority in resin products is to procure needed materials at as low a cost as possible. As a response to such needs, we have procured the cooperation of excellent overseas factories, centered on those in Asia, for cast products made of widely used resins. In addition to this, we have established local companies with full-time technical staff to oversee and ensure QCD control. We also have both domestic and overseas cooperating assembly factories, to which we can delegate production, depending on the required technical level and delivery date. This further ensures our reputation of being a firm to which clients can securely and totally entrust their needs.


We offer high-quality production overseas through the quality control system made possible by possessing our own plants within the Chuo Kaseihin.
We can fulfill from start to finish. As a value-added manufacturing plant, We have a special technology so called "Direct Mold Compounding". Normally making composited molding product, we have to use composited pellets with glass fiber, carbon fiber, and, or other fillers. Using this technology, we can make composited molding product directly from plastics and fillers to save the process and costs. While it ensures the enhancement of the Chuo Kaseihin development and production capabilities, the operation of a plant provides first hand experience and know-how on quality control. It is because of this Chuo Kaseihin is able to provide you with services that go beyond what is offered by other trading firms.

Products Sample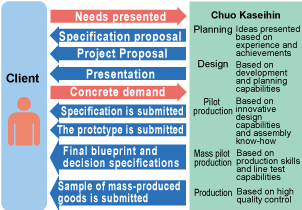 Principal Products
【Raw materials for synthetic resins】
・PVC
・PS
・AS
・ABS
・PP
・PE
・EVA
・Polyacetal
・Polyamide
・Polycarbonate
・PMMA
・Elastomers
・Polyurethane
・Epoxy
・Unsaturated polyester
・Melamine
・Engineering plastics
・Compounds
・Fiber reinforced plastics
・Long fiber reinforced plastics

【Synthetic resin products processed products】
・Insulation and insulating materials
・NHK Super Seal
・Urethane mold products
・Films such as PVC, PS and PE
・PVC laser and processed products
・FRP products
・Contour extrusion mold products
・Injection mold products
・Blow mold products
・Vacuum mold products
・Rotational mold products, etc.
・Fiber reinforced plastic products
・Long fiber reinforced plastic products

【Others】
・Processed metal products
・Processed wood products
・Assemblied products