Our Vision
We support your business seamlessly by utilizing our unique technologies and expert knowledge in the field of chemicals.
Chuo Kaseihin has developed unique technologies and expertise as a chemical trading company that has its own manufacturing department. We are not limiting ourselves to be a raw material distributor. We have been evolving our solutions by seamlessly combining services around "contract manufacturing" and "offering suggestions regarding processing" to respond to diversifying needs that are being influenced by the many changes occurring around the world. Thinking, moving, and expanding hand-in-hand with customers - that is what Chuo Kaseihin does.

Quality Policy - Chuo Kaseihin is committed to continually improving the quality of our products and services to accommodate varying customer needs.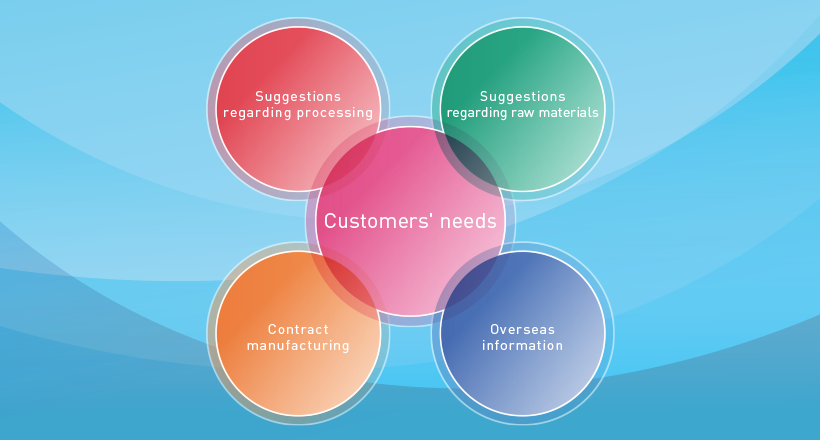 Our Business
We develop, manufacture, and sell materials and products in the areas of basic and fine chemicals and plastics.
Our most distinctive feature is that we not only sell domestic and foreign products but we also have our own factories as well as both manufacturing and development capabilities. Our factories, which are equipped with advanced facilities, support both joint development and contract manufacturing. In this way, we can offer an optimum combination of services to customers in every field.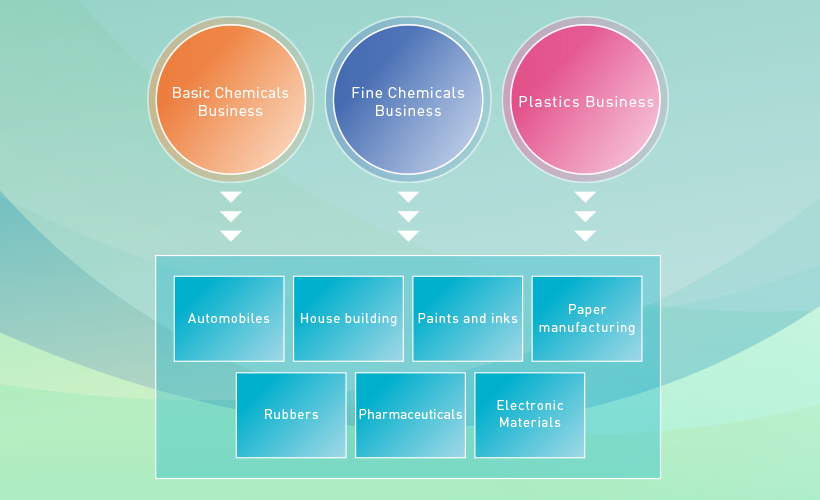 Message from the President
Chuo Kaseihin Co., Inc. started business as a chemical trading company in 1956.
Since then, we have expanded our business from chemical trading to manufacturing of chemicals and processing of plastics. Today, we, as a unique chemical trading company, offer a variety of materials in a wide range of fields, including automobiles, house building, paints and inks, paper manufacturing, rubbers, pharmaceuticals, and electronic materials.

We seek to contribute to our customers' business growth by suggesting an optimum portfolio of tools and functions created by us as well as by domestic and overseas companies for multipurpose materials, functional materials, organic synthesis of functional chemicals, and resin processing.

Our surroundings, including environmental issues, are changing rapidly. Our motto is to provide a wide range of seamless services in a timely manner to meet the diverse needs of customers. We will always strive to make Chuo Kaseihin an attractive company to our customers. I would like to ask for your continued support and patronage.