We mainly sell petrochemical products; aromatics, including toluene and xylene, solvents such as alcohols and ketones, monomers, polymers, and others. We are also committed to providing solvents and imported materials for commercial use that are compliant with environmental standards.
Services
Broad and varied selection of products

We provide a broad range of products, including domestic, foreign, and recycled products.

Providing assurance to our customers

We support our customers with extensive knowledge and experience obtained over the last six decades.

Quick and accurate

We respond to customers' requests promptly and adequately, utilizing our accumulated know-how.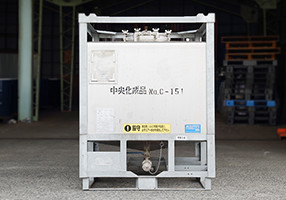 Our Unique Service
Intermediate bulk containers (IBCs)
We propose use of 1,000 liter IBCs instead of 200 liter drums or small capacity lorries.
Principal products
Solvents
Aromatics

| | |
| --- | --- |
| High-boiling solvents (solvent naphtha) | 64742-94-5 |

Aliphatic compounds

| | |
| --- | --- |
| Mineral turpentine (mineral spirits) | 64742-47-8 |

Methylcyclohexane
(MCH)
108-87-2

Ethylcyclohexane
(ECH)
1678-91-7

Esters

| | |
| --- | --- |
| Isobutyl acetate | 110-19-0 |

| | |
| --- | --- |
| n-Propylacetat (NPAC) | 109-60-4 |

| | |
| --- | --- |
| Dimethyl carbonate (DMC) | 616-38-6 |

| | |
| --- | --- |
| Propylene carbonate | 108-32-7 |

Ketones

| | |
| --- | --- |
| Ethyl methyl ketone (MEK) | 78-93-3 |

| | |
| --- | --- |
| Methyl isobutyl ketone (MIBK) | 108-10-1 |

| | |
| --- | --- |
| Cyclohexanone (anone) | 108-94-1 |

| | |
| --- | --- |
| Diacetone alcohol (DAA) | 123-42-2 |

| | |
| --- | --- |
| Diisobutyl ketone (DIBK) | 108-83-8 |

Alcohols

| | |
| --- | --- |
| Denatured ethanol | 64-17-5 |

| | |
| --- | --- |
| Isopropanol (IPA) | 67-63-0 |

| | |
| --- | --- |
| n-butanol (butyl alcohol) | 71-36-3 |

| | |
| --- | --- |
| isobutanol (isobutyl alcohol) | 78-83-1 |

| | |
| --- | --- |
| Secondary butyl alcohol (SBA) | 78-92-2 |

| | |
| --- | --- |
| Tertiary butyl alcohol (TBA) | 75-65-0 |

| | |
| --- | --- |
| n-Propyl alcohol (NPA) | 71-23-8 |

Glycol ethers

| | |
| --- | --- |
| Methyl cellosolve (ethylene grycol monomethyl ether) | 109-86-4 |

| | |
| --- | --- |
| Ethyl cellosolve (ethylene grycol monoethyl ether) | 110-80-5 |

| | |
| --- | --- |
| Butyl cellosolve (ethylenegrycol mono-n-butyl ether) | 111-76-2 |

| | |
| --- | --- |
| Propylene glycol monomethylether (PM/PGME) | 107-98-2 |

| | |
| --- | --- |
| Propylene glycol monomethylether acetate (PMA/PGMEA) | 108-65-6 |

| | |
| --- | --- |
| 3- methoxy-3-methyl-1-butanol (trade name: Sol-fit) | 56539-66-3 |

| | |
| --- | --- |
| Ethylene glycol mono-tertiary butyl ether (ETB) | 7580-85-0 |

Other solvents

| | |
| --- | --- |
| N,N-dimethylformamide (DMF) | 68-12-2 |

| | |
| --- | --- |
| N-methyl pyrrodinone (NMP) | 872-50-4 |

| | |
| --- | --- |
| Tetrahydrofuran (THF) | 109-99-9 |

| | |
| --- | --- |
| γ-Butyrolactone (GBL) | 96-48-0 |

| | |
| --- | --- |
| N,N-Dimethylacetamide (DMAC) | 127-19-5 |

| | |
| --- | --- |
| Dimethyl sulfoxide (DMSO) | 67-68-5 |
Raw materials of synthetic resins
Monomers

| | |
| --- | --- |
| Stylrene monomer (SM) | 100-42-5 |

| | |
| --- | --- |
| Methyl methacrylate (MMA) | 80-62-6 |

| | |
| --- | --- |
| Methyl acrylate (MA) | 96-33-3 |

| | |
| --- | --- |
| Ethyl acrylate (EA) | 140-88-5 |

| | |
| --- | --- |
| Butyl acrylate (BA) | 141-32-2 |

| | |
| --- | --- |
| 2-Ethyhexyl acrylate (2EHA) | 103-11-7 |

Polyalcohols

| | |
| --- | --- |
| Ethylene glycol (EG) | 107-21-1 |

| | |
| --- | --- |
| Diethylene glycol (DEG) | 111-46-6 |

| | |
| --- | --- |
| Triethylene glycol | 112-27-6 |

| | |
| --- | --- |
| Polyethylene glycol (PEG) | 25322-68-3 |

| | |
| --- | --- |
| Propylene glycol (PG) | 57-55-6 |

| | |
| --- | --- |
| Pentaerythritol (PE) | 115-77-5 |

| | |
| --- | --- |
| Trimethylolpropane (TMP) | 77-99-6 |

| | |
| --- | --- |
| Neopentyl glycol (NPG) | 126-30-7 |

Plasticizers

| | |
| --- | --- |
| Dioctyl phthalate (DOP) | 117-81-7 |

| | |
| --- | --- |
| Diisononyl phthalate (DINP) | 28553-12-0 |

| | |
| --- | --- |
| Dibutyl phthalate (DBP) | 84-74-2 |

| | |
| --- | --- |
| Bis (2-ethylhexyl) sebacate | 122-62-3 |

Isocyanate

| | |
| --- | --- |
| Toluene diisocyanate (TDI) | 26471-62-5 |

| | |
| --- | --- |
| Diphenylmethane diisocyanate (Monomeric MDI) | 101-68-8 |

| | |
| --- | --- |
| Polymethylene polyphenylene polyisocyanate (Polymeric MDI) | 9016-87-9 |

| | |
| --- | --- |
| Dicyclohexylmethane 4,4'-Diisocyanate (Hydrogenerated MDI) | 5124-30-1 |

| | |
| --- | --- |
| Hexamethylene diisocyanate (HDI) | 822-06-0 |

| | |
| --- | --- |
| Isophoronediamine diisocyanate (IPDI) | 4098-71-9 |
Fine Chemicals
Amine

| | |
| --- | --- |
| Dimethylamine (DMA) | 124-40-3 |

| | |
| --- | --- |
| Trimethylamine (TMA) | 75-50-3 |

| | |
| --- | --- |
| Diethylamin (DEA) | 109-89-7 |

| | |
| --- | --- |
| Triethylamine (TEA) | 121-44-8 |

| | |
| --- | --- |
| Cyclohexylamine (CHA) | 108-91-8 |

| | |
| --- | --- |
| Dicyclohexylamine (DCHA) | 101-83-7 |

Organic acid

| | |
| --- | --- |
| Maleic anhydride | 108-31-6 |

| | |
| --- | --- |
| Phthalic anhydride | 85-44-9 |

| | |
| --- | --- |
| Isophthalic acid | 121-91-5 |

| | |
| --- | --- |
| 2-Ethylhexanoic acid | 149-57-5 |

| | |
| --- | --- |
| Isononanoic acid | 26896-18-4 |

Others

| | |
| --- | --- |
| Hexamethylenetetramine(hexamine) | 100-97-0 |

| | |
| --- | --- |
| Formalin(formaldehyde) | 50-00-0 |

| | |
| --- | --- |
| 4-tert-Octylphenol(POP) | 140-66-9 |

| | |
| --- | --- |
| Methyl salicylate | 119-36-8 |

| | |
| --- | --- |
| 2,6-Di-tert-butyl-4-methylphenol(BHT) | 128-37-0 |

| | |
| --- | --- |
| 3-Chloro-2-hydroxypropyltrimethyl ammonium chloride(CTA) | 3327-22-8 |
Inorganic products
Inorganic products

| | |
| --- | --- |
| Sodium hydroxide | 1310-73-2 |

| | |
| --- | --- |
| Sodium bicarbonate | 144-55-8 |

| | |
| --- | --- |
| Sodium carbonate | 497-19-8 |

| | |
| --- | --- |
| Sodium hypochlorite | 7681-52-9 |
Plastics
Plastics
Elastomer

| | |
| --- | --- |
| Acrylonitrile-butadiene rubber(NBR) | 9003-18-3 |

| | |
| --- | --- |
| Chloroprene rubber(CR) | 9010-98-4 |

| | |
| --- | --- |
| Styrene-butadiene rubber(SBR) | 9003-55-8 |

| | |
| --- | --- |
| Ethylene-propylene rubber(EPDM) | 25034-71-3 |
Other chemicals
| | |
| --- | --- |
| Aluminium paste | |
| Paints | |
| Inks | |
| Adhesives | |
| Thinners | |
| Fatty acid | |
| Aliphatic alcohol | |
| Castor oil | |
| Silicone | |